Turbo rekt – By losing its parity with the dollar, the UST caused the entire market to wobble, reinforcing doubts about the viability of algorithmic stablecoins. The earthquake caused by Luna's eclipse shook the entire crypto ecosystem, and even major players were impacted. Binance CEO "CZ" has revealed Binance's astronomical losses following the LUNA token crash.
Binance not spared from LUNA crash
Following the debacle, Changpeng Zhao "CZ" spoke via his Twitter account in an effort of "transparency" towards Binance users, who are also exposed to Luna. In a series of 5 tweets, he discusses the losses suffered by the crypto exchange, the position of the latter regarding the compensation plan debated by the community as well as the protection of users.
The world leader in cryptocurrency trading platforms has a clear strategy for global expansion and must place user protection as a top priority. This requires, among other things, increased transparency, especially in a matter as hot as LUNA, a former star shining in the top 10 crypto.
CZ revealed that Binance received " 15,000,000 LUNA following its initial investment in 2018, for $3 million. A good bet, so far.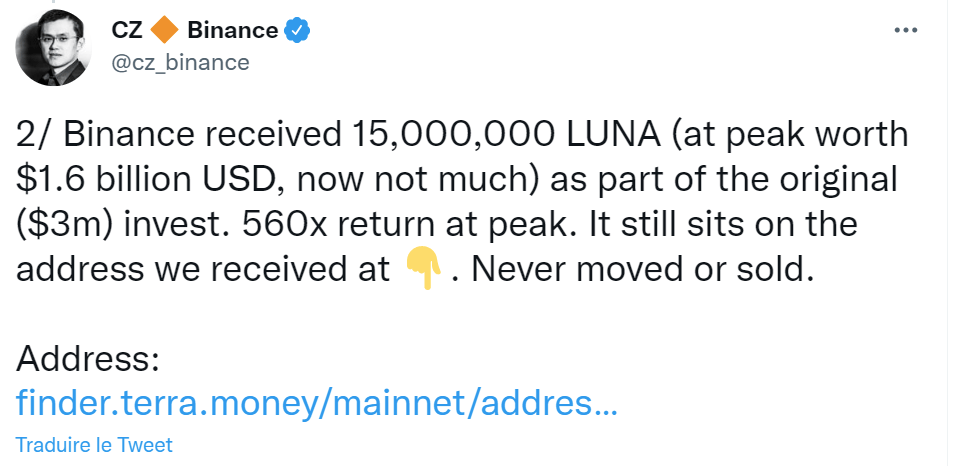 >> Start stockpiling crypto on Binance for the next bull run! (affiliate link) <<
LUNA crash: "not sold, not lost"
The CEO of Binance even specifies that his platform, which regularly invests in crypto protocols, could have potentially multiplied its initial investment by 560. Although Binance is a robust and market-leading crypto exchange, the crypto environment is very volatile. No one is immune, both individuals and professionals, who are supposed to have increased risk management.
" Not sold, not lost » – If this adage that has become a meme (or the reverse) can bring hope in some cases, for the LUNA the losses seem indeed final. CZ specifies that the 15 million LUNA tokens in question are still on the same address and that they have not moved. These tokens are worth just $2,100 as of today. A dead loss therefore for the platform, which on the other hand was only slightly exposed to the UST (officially).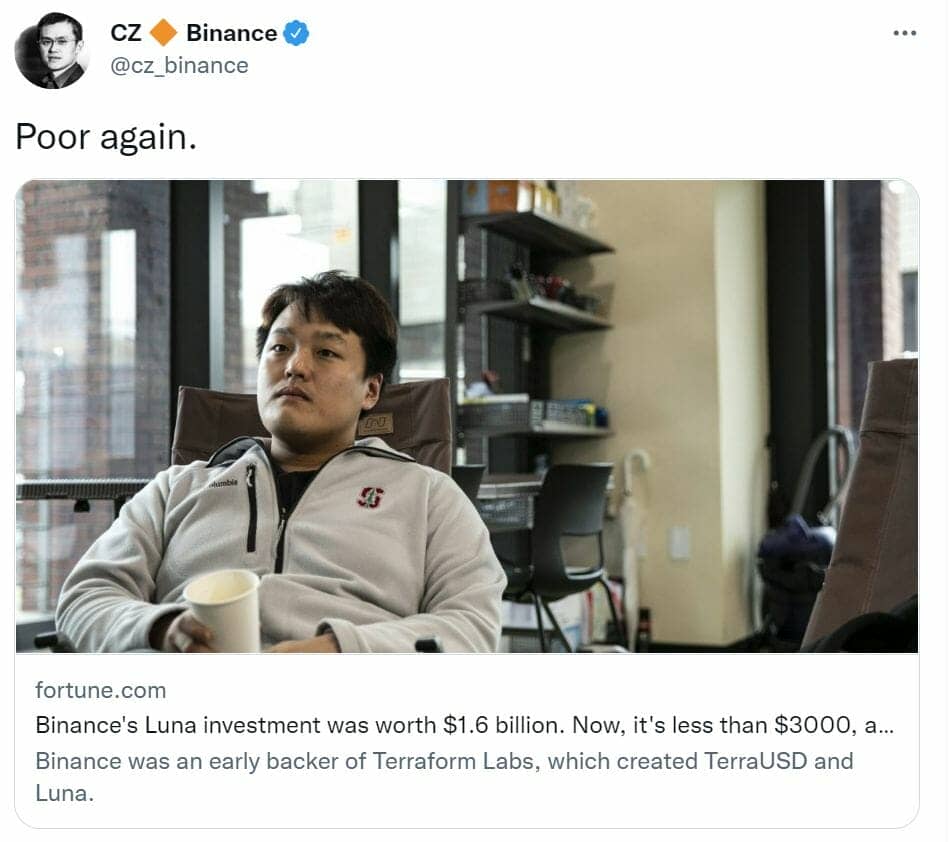 Do Kwon, however, does not seem to give up on his project and even launched a hashtag #TerraIsMoreThanUST even if it seems very unlikely that LUNA will come back from the dead. If the token returned to flirting with 8 cents, then it would reach the capitalization of Bitcoin… Moreover, the community rejected his proposal to make a forked of the Terra Blockchain.
Despite the Korean founder's various proposals, Terra Money seems to be at an impasse and has seen his lawyers resign a few days ago, in the doldrums. A situation that will of course lead lawmakers to pay extra attention to algorithmic stablecoins, such as this is the case in the UK.
Luna is devastated… Will Do Kwon be able to save his project? Only the future will tell us. Waiting, run sign up on BinanceTHE absolute benchmark for crypto platforms (affiliate link).